I am not a hoarder, I am a collector: If you have something you like, every time you see it,

you have a little happy hit.


–Douglas Coupland
As a photographer, I see a lot of potentially interesting subjects. I pick some up from the ground, some off the sandy beaches, from the woods, and even some off the side of the road. I love old things. So, going into an antiques store can be dangerous, especially if they give you a little basket to collect the goods. That's where you can find all kinds of cool stuff. Mostly, I find items that remind me of my childhood, things that are long gone from my family and others that are just look-backs in time. I am a Collector.
COLLECTING WHAT YOU PHOTOGRAPH
Let's be honest from the start. Do you collect things? Doesn't matter what it is. It's a yes or no question. My answer is "yes." If your answer is the same, join me as a fellow collector, hunter/gatherer, saver of memories and any other good words you can come up with. Do the things you collect have value? Monetary or emotional or both? Do they fall into categories like family history, nostalgia, floral, coastal, and just neat stuff? Mine do.
Do you have your collections all labeled and organized in specific and methodical ways? Not really. Are they on display in a meaningful way? Some are. Or are they gathered together in bins and cabinets and sometimes jumbles, or combination of all three ways? That's a yes for me. Well, really, it's a "yes, but…."
I collect a lot of different things – rocks, acorns, books, signs, jars, bottles, bird cages, flowers, bugs, marbles, buttons, old toys, cases. You name it, and I probably have a little bit of a collection. There's a part of me that just can't help it. I'm a tactile/visual kind of person. I like to touch and feel and look and touch.
The question is, "why?" Well, many things remind me of my childhood, like tins of buttons, jars of marbles, shells and milk bottles. We had a milkman growing up, and I remember my mother would leave notes in the empty bottles for him. Other things remind me of times gone by, when we actually made items by hand, and they were made to last. I'm reminded of times I didn't live in and probably can only romanticize them in unrealistic ways – like the old cars, bird cages, clocks and old lamps. Then, there are the "smalls," like old medicine bottles, salt and pepper shakers, tin boxes, colored glass jars and bottles. You name it.
For the record, I may be a "florahoarder." I have dried flowers of all kinds – seed pods, flower tops, roses and buds, hydrangeas, dahlias and a few more. In other words, I have a lot of dead things in floral storage.  Eventually, they will have their turn in front of the camera and be released. For now, many are stored in small bins and containers while ideas germinate on how I might photograph them in a different way. They have no explicit timeline. Just waiting. Their time will come, and then they will go. Until then, they and I wait.
I can't explain all there is to my fascination with old things, small items of little value, except perhaps that they once had value and were used and useful, then they became useless. Like the old homes I see along the back roads that are left to fall away onto themselves. Homes that were once filled with families and stories somehow become "leave-able" and abandoned. Because I can't bring home old houses or barns or cars and tractors, I go out and photograph them before they are gone forever. I hunt and gather images to keep them from fading into a completely different and often unmemorable new landscape.
The second item, spindles (or bobbins), comes from a denim mill in Georgia. The mill is long gone, along with the jobs it provided for the community and area, but the remains of Lindale Mill property are now owned by a family working to preserve a part of its history and create a venue for events. Built in 1896 by Massachusetts Mills, the mill produced 1/7 of all textiles in Georgia and employed 1,393 people. In 1931, during the Great Depression, a few mill employees built a wooden star of HOPE to hang between the two smoke stacks at Christmas.
After 105 years of manufacturing, the mill closed in September 2001 when it couldn't compete with textiles made overseas. In 2004, the 70-year tradition of the Christmas Star was briefly ended. In 2010 the Silva family purchased the mill and began cleaning up the area around the mill. In 2013, the Christmas Star hanging tradition was restored.
Joe Silva was gracious enough to allow me to keep some spindles/bobbins from the mill. I wanted to honor this gift and piece of American history with images that reflect a part of their history. It felt right to use denim, cotton and an antique case for the arrangements. And, yes, I am keeping these forever.
HONOR WHAT YOU KEEP IN SOME WAY
Not for nothing, but I do teach photography and have a passion for macro and close-up photography, so it stands to reason that I would have a good supply of potential subjects gathered round for fun and for practice. So, there's another argument (excuse) for collecting.
Does everything I collect or save have value? No, probably not to anyone except me. That said, I am slowly making a gradual commitment (note the delay) to find ways to use and/or honor all of what I keep. The process of organizing the items will be long and somewhat arduous (daunting, if you want to know the truth). It means that as I open each cabinet and bin to organize these "kept" things, I must focus and not be distracted. It will be easy to let go of the things I am no longer emotionally attached to, things no longer intact (broken shells, wings, etc.) and things I cannot even remember why I saved in the first place.
I'll have to ask a revision of my question while shooting (Why did I stop?) to something that goes like, "What the heck did I see in this??" The things on the edge of "yes or no" will be more challenging. It could go either way. I may need an assistant. I guessing you may sense a hint of hoarder in me. Perhaps, there is a teeny bit of truth in that perception. However, with limited space and more reflection I believe my collections will become smaller, more intentional and more meaningful. In the meantime, I'll have fun exploring the cupboards and creating stories out of stuff. Remember, I am mostly a Collector. For anyone who sees a part of themselves in me, welcome!
WHAT'S THE DIFFERENCE?
By the way, I have a thought for you on the difference between a collector and a hoarder (I have seen it firsthand in my family). A collector is one who gathers and saves certain things because they like them, the stuff is interesting to them, and the stuff makes them happy. The collector can let things go when interest fades. A hoarder is someone who saves just about anything and everything and cannot let go of any of it, regardless of the situation or its condition. I have seen it in action, and that is not me. I have no background in psychology, but that's my take on the issue. Cheers to those of you who collect!
I will work to bring honor and light to my collection of different subjects. I will work to learn from them and more about them.  I will let some of things go and pass others on to those who'll love them more and share the love. Oh, and all those books I LOVE to touch and feel and smell and hold … I'm going to start reading them, too. And, every time I do, I'm going to remember Douglas Coupland and have a little "happy hit."
And this . . .
I am a Collector. I am a Photographer. I am a Collector who Photographs. I am a Photographer who Collects.
I AM ALL OF THESE.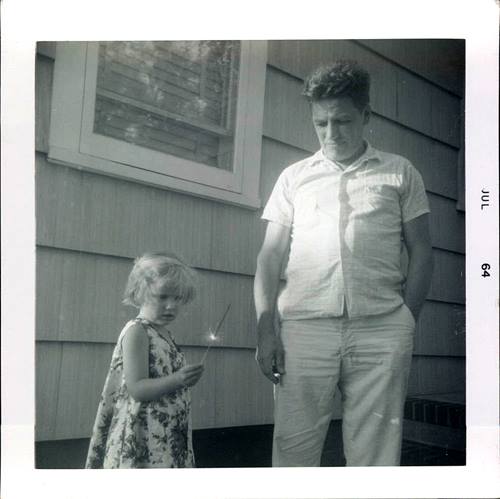 Thanks to Grandma Friis I have this picture of my fourth birthday, when all the fireworks were JUST FOR ME! And we're near that front porch where all the family pictures were taken, me and Grandpa and my sparkler. I don't know what camera she used for this picture. I just know that I should have said thank you for all the memories she captured for our family. Remember, they don't have to be perfectly technically sound photos to bring back wonderful times. Thanks, Grandma.