Charleston With a Twist Workshop
$450.00 – $995.00
March 19 – 23, 2023

Charleston, SC

Fee: $995 (Includes admission to all gardens/plantations/excursions)
Deposit: $450
Maximum Attendees: 6

CAPTURE THE BEAUTY of the Gardens, ARCHITECTURE AND HISTORY
Spring is the perfect time to be in Charleston to explore the gardens and historic district and magnificent plantations & more as the emerging color palette lifts our souls. We'll explore and photograph the magic of Charleston – from hidden alleyways, gardens and graveyards of Old Charleston to coastal treasures and architectural icons – but with new eyes.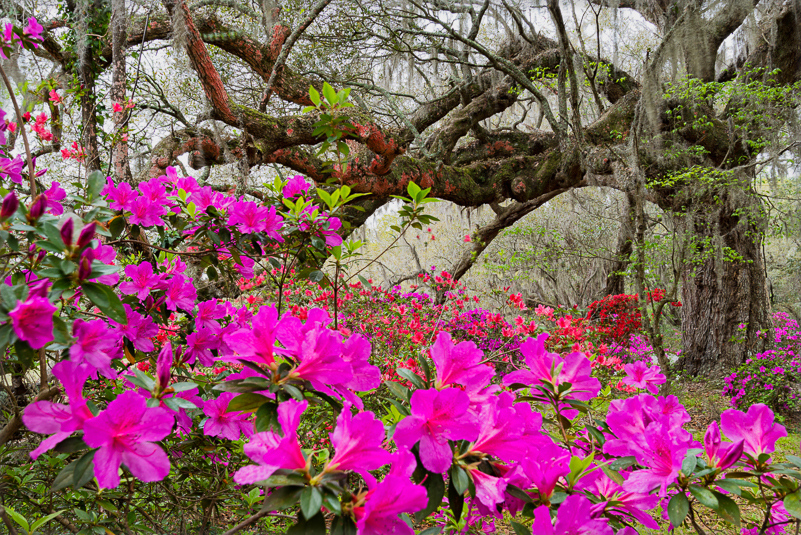 A visit to Charleston and the Low Country is not complete without a visit to Magnolia Gardens & Plantation. Each location offers unique views into history and nature. We'll work in time to immerse in the wash of color and let a trip back in time seep into our bones. Even if you've been to these places before, you'll want to get the iconic shots out of your system and cut loose to capture images that are unique to you. In addition, we'll visit Cypress Gardens in Moncks Corner, which offers a unique perspective to life in the cypress and is filled with diverse flowers & plants, including azaleas, lilies and more. Along with this, we'll spend time at a nearby cypress tree treasure excellent for long exposures and other image making.
We'll also spend time at the Arthur Ravenel Bridge for the classic sunset image and work the scenes at Shem Creek, awash with coastal marshes, birds and area shrimpers. The Battery on the waterfront of the Charleston Harbor, along with the cobblestone streets, grand homes with side porches, and historic churches and churchyards hold treasures to be discovered. No matter what your favorite subject, Charleston and the surrounding area is  a mecca for photographers in color, infrared, landscape, macro and abstracts.
This workshop is designed for photographers of all levels. You'll have the opportunity to work your lenses from wide angle to macro and telephoto, depending on where your creative vision takes you. Jamie will work with you in the field and share techniques to help you reach your objective with images that you see.
STRETCH YOUR CREATIVE MUSCLES TO CAPTURE ICONIC PLACES IN NEW WAYS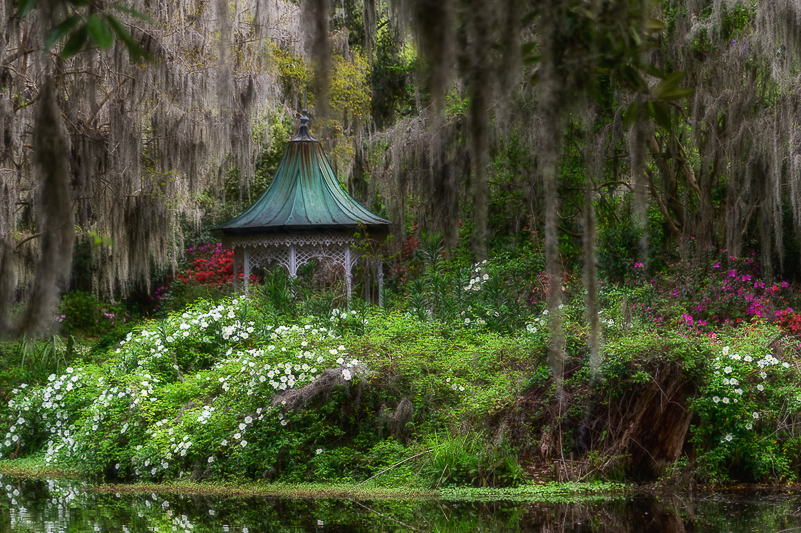 Rounding out exploration of awesome places includes a visit to Magnolia Cemetery, one of the best for intriguing headstone, magnificent live oaks as well as coastal birds and other local wildlife. There will be a few more locations on the list to fill your mind and heart with wonderful memories and you learn to see differently from a photographer who approaches image making in unique and different ways. All the while we'll work to capture magical light in interesting places.
Part of this workshop celebrates the beauty of a new season and bursts of colors. The other part focuses on subjects that show their age with grace and style. We plan for plenty of time to explore each location and exercise our creative muscles. If you're an infrared shooter, or would like to be, these subjects are wonderful for that style of shooting, and we're here to help you move forward in both the visible and invisible light arenas. If you have a Lensbaby (or two or three), the Charleston locations are primed and ready for your interpretations and creativity. We have three full days of photography, time to learn some post-processing techniques and opportunities to share images from our time together.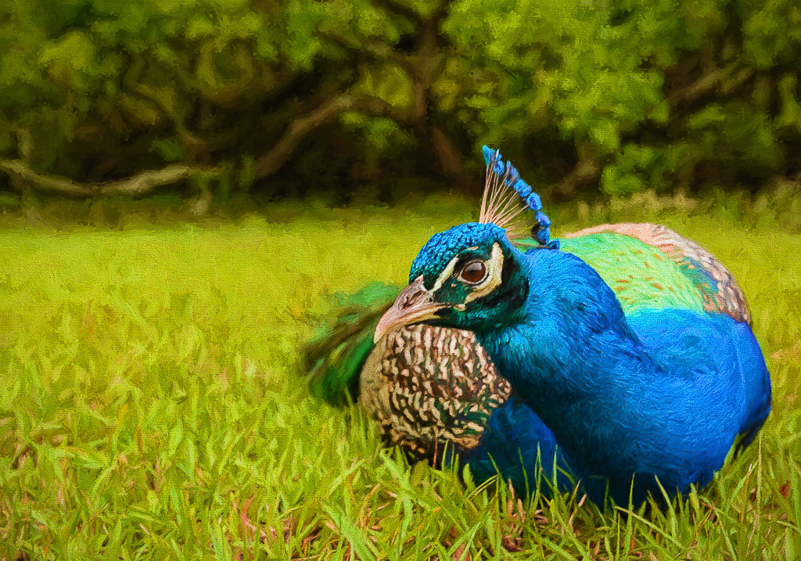 Workshop Registration is $995 / person (includes admissions to Magnolia Plantation & Gardens, Cypress Gardens & more)
Lodging: Town & Country Inn and Suites
2008 Savannah Highway, Charleston, SC 29407
843-571-1000
Special Group rate of $129/night/Mon-Thurs when you mention New Life Photos (Code: NEWLIF)
Deadline for Hotel Reservations: February 19, 2023
Email jamie@newlifephotos.com for more information or to register by mail.
PRE-WORKSHOP ZOOM Meeting will be held on Wed. March 8th at 7:00pm (unless otherwise noted)
NOTE: This workshop involves a lot of walking in almost all the locations. Be prepared with good walking shoes and energy.